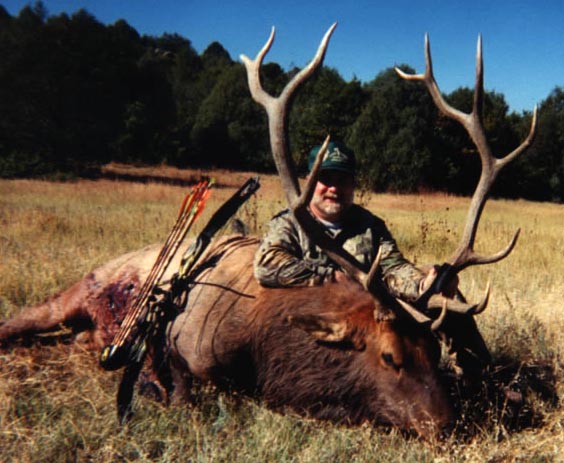 Our archery elk hunts are conducted on thousands of privately owned acres in Northeastern New Mexico in the well known Moreno Valley. These hunts are located east and southeast of Raton.
These ranches consist of foothills and rugged mountain country with elevation ranging up to 12,500 feet. Tree cover is provided by ponderosa pine, spruce, large quaking aspen groves, with parks and meadows mixed in.
This area is historically noted for large herds of free ranging elk. An archery elk hunt is truly one of the most exciting hunts available.
All of our guides have years of experience calling in bulls during the rut. There is no greater thrill than having a bull respond to a call and come in on the fight. This hunt takes place during the rut in September and our shot opportunity is 80%. This is a fair chase hunt – no high fences.
We provide a full-service hunt, which consists of meals, lodging, 2×1 guide service and game care.
If any hunter would like to upgrade to a 1×1 there will be an additional $1,000 cost. We offer two 5-day or 7-day hunts in September. Cost for extra hunting days is $500 per day.
Combination Hunts
During the archery hunts we can offer a combination elk, mule deer hunt for an additional price of $3,500 plus tax and license. An elk/bear combination can be done for and additional $2,500 plus tax and license. There is also a New Mexico Gross Receipts Tax of 7.7708% on all hunts.
There is no draw for elk tags on private land in New Mexico. The tags are obtained by guaranteed land owner permits which are supplied as part of the cost of your hunt. Hunters must purchase their own hunting license.
All hunters wishing to purchase any big game or turkey license must first purchase an annual Game-hunting License.   This is a new mandatory regulation issued by the New Mexico Game & Fish Department for the 2012 hunting season.
| | |
| --- | --- |
| Dates: | Price: |
| September 6-12, September 16-22 | 7 day hunt: $5,900 |
| September 8-12, September 18-22 | 5 day hunt: $5,500 |
Non-Resident Archery Elk License: $557 + $70 = $627
Resident Archery Elk License: $99
Game-hunting License Non-Resident: $70
Game-hunting License Resident: $20
Photo Gallery
Enjoy these photos from past Tomahawk customers.