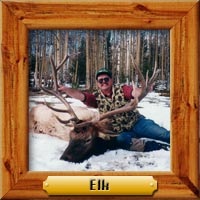 Tomahawk Outfitters is proud to provide full service hunts for Elk, Mule Deer,Antelope, Spring Turkey, Bear, Mountain Lion, and Buffalo. Our hunts include meals, lodging, guide service, transportation while on hunt and game care, which includes; field dress animal, retrieve animal and bring it back to camp to be skinned, quartered and placed in cold storage.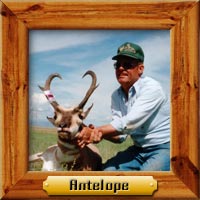 Additionally, we only use licensed guides who are familiar with the ranches that we hunt so your experience is positive and memorable.
Also, one of our guides is a professional and excellent taxidermist and, if you desire, he will be able to take care of all of your taxidermy needs. His work can be seen in our Taxidermy section along with prices and details.
Because New Mexico has become one of the top destinations for producing trophy elk, mule deer and antelope, we know your hunt will be thrilling and rewarding and we are deeply committed to providing an excellent and enjoyable hunting experience for each of our clients.
Hunters stay in a comfortable lodge with a large living room, dining room, and satellite TV. Bedrooms have 2 twin beds with bathroom & showers. The lodges are located close to the ranches that we hunt (see pictures in photo gallery).
We are a licensed and insured outfitter operating in the state of New Mexico. We are members of the New Mexico Council of Guides and Outfitters, North American Hunting Club, Mule Deer Foundation, Rocky Mountain Elk Foundation, Safari Club International, Sportsmen For Wildlife and the National Rifle Association.
You can be sure we stand behind our reputation to give you a unparalleled hunting experience.
Hunting Requirements and Incidentals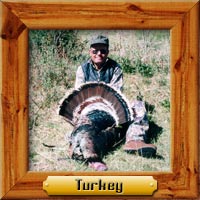 There is a non-refundable 50% deposit is required to book any hunt. The balance is due 45 days prior to the hunt. All licenses are guaranteed when you book a hunt. License cost and sales tax of 5.75% are in addition to the price of your hunt. All kill fees on combination hunts (elk/bear or lion or deer/bear or lion) are payable at the end of the hunt.
Any necessary applications will be completed prior to your hunt.
The hunter is responsible for the following:
Processing and shipping of game meat.
Transportation to and from the hunt area.
If under age 18, a Hunter Safety Card is required to purchase a hunting license.
Taxidermy cost of trophy mount
Customer ID# from the New Mexico Game & Fish Department
One guide is provided for two hunters, in most cases. A 1×1 is available for an additional cost of $1000. Non-hunters will be charged a fee of $125 per day. Additional days on guided hunts is $500 per day, per person. Guide gratuity is not included and is at hunter's discretion. Suggested range: $250-$500.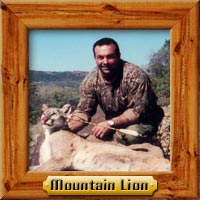 Hunters must furnish own personal articles; guns, ammo, clothes, etc.
Because of high altitudes and rugged terrain, we highly recommend that all hunters be in good physical condition to help enhance their hunt. TOMAHAWK OUTFITTERS will not be responsible for any deaths or accidents that may occur on any of our hunts, in camp, or in the field.
All hunts are conducted in accordance with The New Mexico Game and Fish Rules and Regulations.