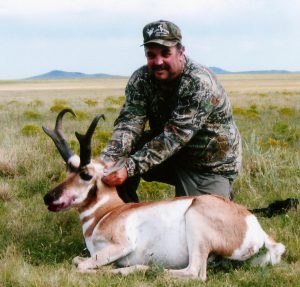 Tomahawk Outfitters conducts our antelope hunts on approximately 30,000 acres of privately owned grass lands which provides exceptional trophy antelope hunting. Trophy bucks range in size from 14″ to 17″. We have a 100% annual success rate on our antelope hunts. We hunt antelope by 4-wheel drive, on foot, spot and stalk.
Permits are limited, so contact us right away to book your antelope hunt and get a guaranteed land owner permit.
Full Service Hunts
We offer full-service hunts which includes meals, lodging, 3×1 guide service and game care. If any hunter would like to upgrade to a 1×1 there will be an additional $700 cost. Our antelope hunts are 3-day hunts during the end of August and mid-September.
Unguided Hunt
We offer an unguided antelope hunt ("do it yourself") where hunters furnish their own meals, lodging and game care. For these hunts, hunters will go out with one of Tomahawk Outfitter's guides and enjoy a 3-day hunt during the end of August to mid-September.
No-Draw Tags!
There is no draw for antelope tags on private land in New Mexico. The antelope tags are obtained by guaranteed land owner permits which are supplied as part of the cost of your hunt.
We have killed 100% for the last seventeen years.
Hunters must purchase their own hunting license plus New Mexico Gross Receipts Tax of 7.7708%.
All hunters wishing to purchase any big game or turkey license must first purchase an annual Game-hunting License.  This is a new mandatory regulation issued by the New Mexico Game & Fish Department beginning for the 2012 hunting season.
Resident: $20
Non-Resident: $70
---
Prices and Dates:                 Not hunting the 2018 season
Full Service Hunt: Unit 56
| | |
| --- | --- |
| Dates: | Price: |
| August 25-27 | $3,000 |
"Do It Yourself" Hunt: Unit 56
| | |
| --- | --- |
| Dates: | Price: |
|  August 25-27 | $2,500 |
Non-Resident Antelope License: $292 + $70 = $362
Resident Antelope License: $69
Non-Resident Game-hunting License: $70
Resident Game-hunting License: $20
Photo Gallery
Our previous hunters are proud to share their trophy pictures here with you.